AS an experience designer, I have designed TRANSforMATIONal experiences inviting audiences to dive into themselves and rise up together.
The work in this portfolio has led to the evolution of Let Her Speak. In each of these experiences I learned how to share my voice. Each product and service were designed to inspire and promote deep heartfelt and productive connection.
SEEDS OF COMPASSION. As Creative Director and Producer for thirteen events featuring His Holiness the Dalai Lama, Archbishop Desmond Tutu, musician Dave Matthews and news corespondent Ann Curry, I designed experiences that called hundreds of thousands of people into Compassionate Action, raised millions of dollars and unleashed art throughout Washington State illustrating its citizens visions of compassion.
REVEL WOLF COLLECTIVE. Co-Founder. Firestarter. Experience Designer. At Revel Wolf Collective we transform the ordinary into extraordinary for start-up companies. Using predominately recycled / salvaged materials we bring culture and brand to life in physical space. Working with local artisans, our purpose as a collective is to ensure that artists make living wages, the environment is well tended, that spirit is elevated and our clients minds are blown.
KORU - NAS & GRIT STORIES. When acclaimed rapper Nas came to speak to Koru alumni, we designed an experience to illustrate the uniqueness and commonalities of job seeker's - their GRIT. The GRIT stories are personal stories of triumph and testaments to the resilience and fortitude of the young people who come through the Koru program.
AGOGO. AGOGO is the premier application for all your content needs, AGOGO provides consumers with unlimited access for content and information. Working with AGOGO as their interim Chief Product Officer, I oversaw product design and development.
EQUALITYOGA. Commemorating the fortieth of the Stonewall Uprising which launched the LGBTQ rights movement, we designed and produced Equalityoga, the largest outdoor yoga event in Seattle's history, raising money and cultivating activists for Marriage Equality.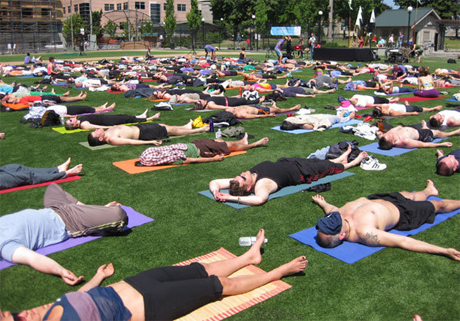 WAMU THEATER, JONES SODA AND AMERICAN APPAREL. We designed interactive installations as a means to attract new customers, the Photo Pods provided a fun and engaging way for audiences to interact with name brands in concert venues, at football games and when out for an afternoon of shopping.